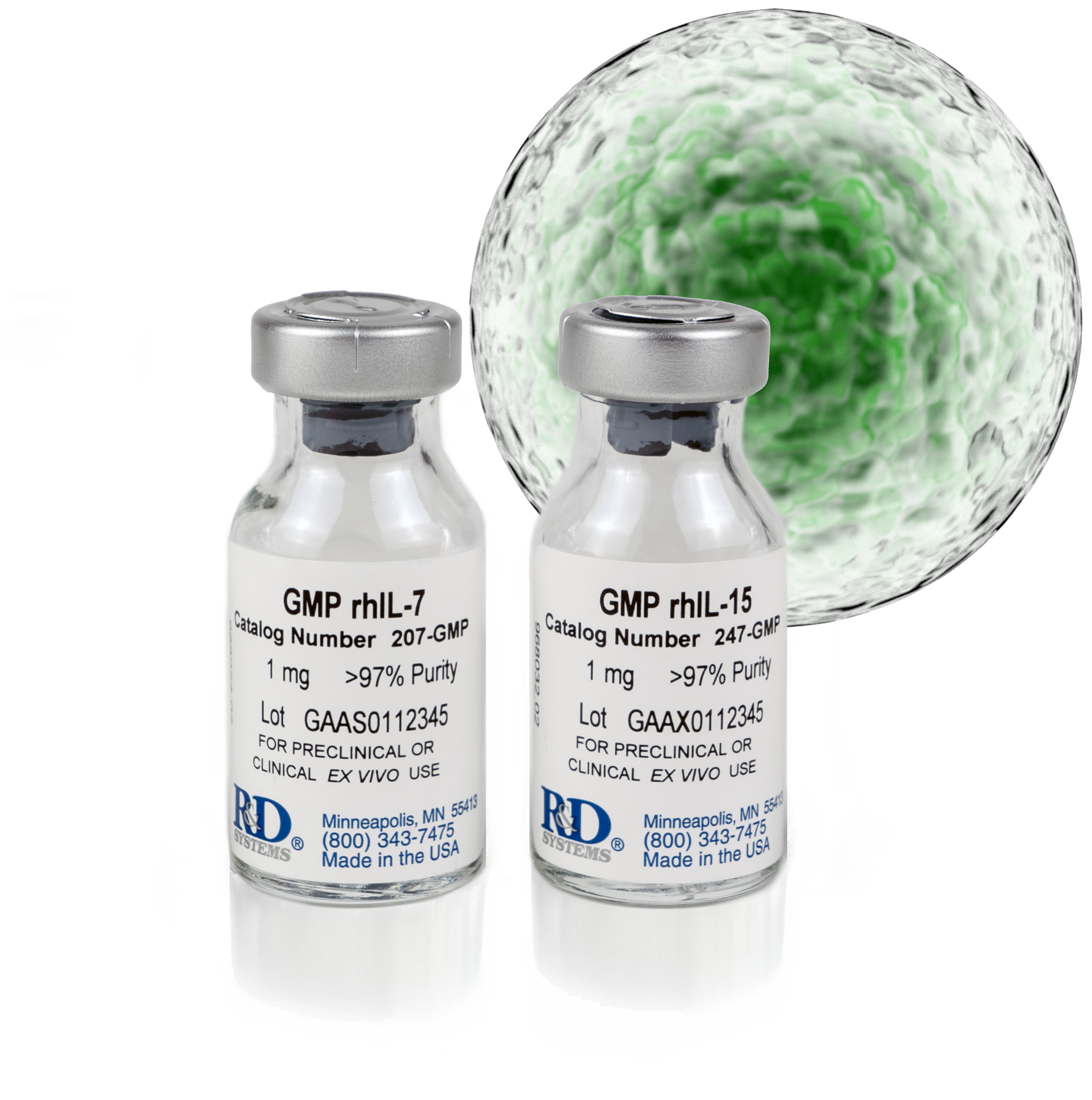 Falling short on GMP cytokines for your CAR T cell clinical trial is risky. So is compromising cell quality by using cytokines with inconsistent bioactivity. There is now an option for GMP-grade IL-7 and IL-15, that helps alleviate these risks.
All the GMP cytokine you want – Now you can secure large clinical-trial size lots of highly consistent GMP-grade IL-7 and IL-15. This helps you de-risk your cell manufacturing process by securing reagent supply and improving cell quality consistency across therapeutic doses.
In the format you need – With options to purchase as single vials, multiple vials, bulk protein, or in custom-filled vials by mass or activity, you will be confident that your GMP cytokines are process optimized.
Request Sample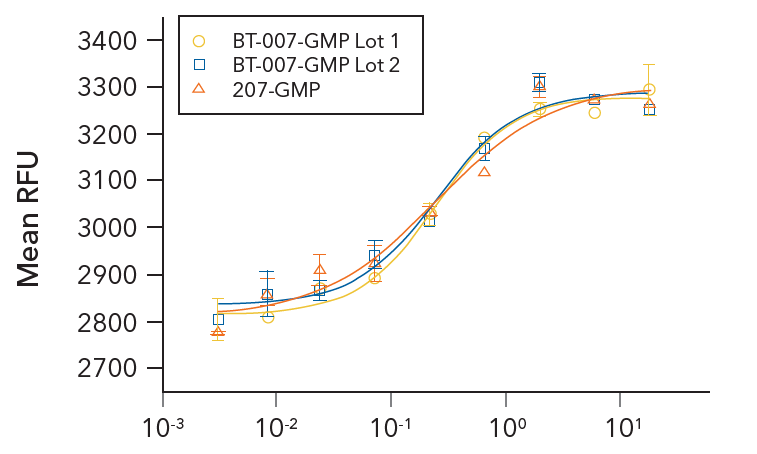 Consistent Bioactivity for Reproducible Manufacturing
Reproducible cell expansion and cell phenotypes are critical when manufacturing cell therapies. That's why its important to use GMP cytokines with high lot-to-lot performance consistency.
Data (right) shows similar bioactivity from two GMP rhIL-7 (BT-007-GMP) lots produced at our new animal-free GMP facility compared to legacy Bio-Techne GMP rhIL-7 (Catalog #207-GMP). The new rhIL-7 uses the identical protein sequence, and bioactivity specifications as the research-grade and legacy GMP IL-7 product.
How can we produce large lots of GMP IL-7 and IL-15?
GMP-grade IL-7 and IL-15 can now be produced at a game-changing scale within Bio-Techne's new dedicated animal-free GMP facility. This state-of-the-art GMP facility was built with cell therapies in mind. It has large volume bioreactors for scalable GMP cytokine production and is backed by experienced manufacturing, quality, and regulatory teams. The facility is equipped with space to accommodate future increases in demand for cell therapy-related proteins, including larger lot size and facility throughput. All GMP and research-grade versions of cell therapy-focused proteins will soon be produced in this animal-free facility.
What proteins are manufactured in the new facility?
Recombinant Human IL-7 GMP Available Now!
Recombinant Human IL-7, Research-grade Available Now!
Recombinant Human IL-15 GMP Available Now!
Recombinant Human IL-15, Research-grade Available Now!
Recombinant Human IL-2 GMP Available Now!
Recombinant Human IL-2 GMP, Research-grade Available Now!
Do you need GMP IL-7, IL-15, or IL-2?
Recombinant IL-7, IL-15, and IL-2 are used for ex vivo expansion of CAR T cell and TCR T cell therapies. Together, these cytokines promote rapid expansion of T cells, encourage naïve and memory t cell populations, and have potential to improve antitumor efficacy and T cell patient engraftment. Whether you're expanding T cells using G-Rex closed-system bioreactors or another expansion platform, you will need GMP IL-7 & IL-15 or IL-2 for commercialization.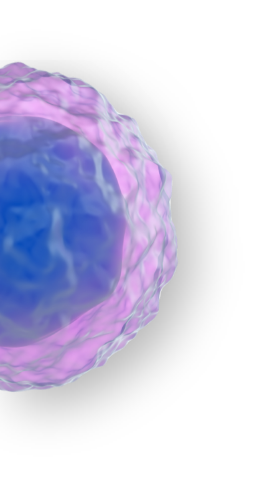 Test GMP IL-7 and IL-15.
Complete the form and a ScaleReady representative will be in contact to arrange a testing plan.