Marker TX T-cell Manufacturing Simplification
Simplification of T Cell Manufacturing Using the G-Rex Platform as First Step Towards Automation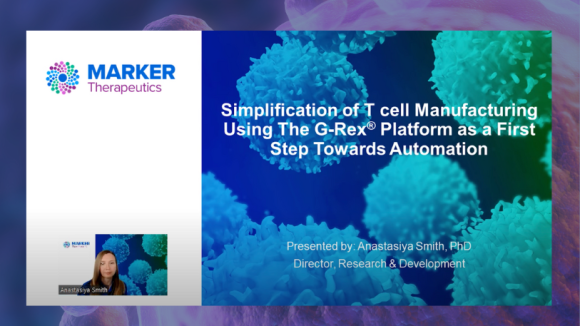 This pre-recorded webinar presentation features Anastasiya Smith, Senior Director of R&D of Marker Therapeutics outlines the following in achieving automation through the first step of simplification for cell therapy programs.
–Process Automation: In-house process development to simplify and prepare for automation
–Reagent Standardization: Standardization of reagents to enable process automation
–Process Automation: Implementation of robotics to automate the simplified process
To view the 15-minute webinar, fill out the form below for instant access.
Join Anastasiya Smith, Snr. Director of R&D at Marker Therapeutics for a 15-minute pre-recorded webinar covering the first critical steps in successful automation through simplification with the G-Rex platform.
Literature
Cell Processing Systems Comparison Flyer
Compare Lovo and Cue system specifications and applications.
Literature
Lovo Large Volume Cell Processing System Brochure
Whether you're focused on early-stage trials or ramping up to full commercialization, Lovo's spinning membrane filtration technology enables fast, precise, and flexible procedures that help increase your lab's overall operational efficiency and processing consistency without compromising product quality.
Case Studies
Transition to Closed-system T Cell Expansion Leads to Process Optimization
In this case study, ScaleReady helped an autologous T cell therapy company rapidly transition to a closed-system process for cell expansion by providing a testing plan to verify that G-Rex500M-CS closed-system bioreactors would meet their immediate cell production requirements and improve cell production efficiency, while adhering to their short timelines for going into clinical trials. In doing so, the company also uncovered small changes to their cell culture protocols that made a big impact on their cell production efficiency.
Get in touch to begin scaling up and scaling out.
Let's talk more about how ScaleReady can advance your cell and gene therapy research and manufacturing with ingenious efficiency.